San Diego Business Journal
Special Report: Mergers & Acquisitions
By Sarah de Crescenzo
December 1, 2016 at 1:27 p.m.
San Diego — When the last day of 2016 rolls around, the value and number of mergers and acquisitions completed nationwide may not reach the high-water market set in 2015, but the number of major deals in the pipeline and a potential relaxing of antitrust regulations have experts bullish about 2017.
R. Michael Jones, a partner at San Diego law firm Higgs Fletcher & Mack, is an entrepreneur and corporate executive turned lawyer who joined the firm 18 years ago. He represents about 40 middle market companies and has recently represented both buyers and sellers in acquisitions.
In 2015, a record year for mergers and acquisitions, data from Thomson Reuters (analyzed by PricewaterhouseCoopers) shows M&A activity in the U.S. added up to nearly $2.4 trillion.
"Everybody was very optimistic at the beginning of 2016 that the acquisition pace would continue," Jones said.
It hasn't quite lived up to the previous year's deal-making. In the first three quarters of this year, the total was about $1.38 trillion, the PwC data show.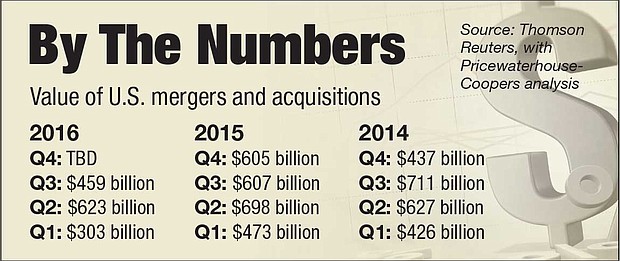 'Money Sloshing Around'
But while the year got off to a slow start, with deals valued at $303 billion closing in the first quarter compared with $473 billion and $426 billion in the first quarters of 2015 and 2014, respectively, experts say deal activity was still strong, driven by corporations' cash caches and low interest rates.
"There's lots of money sloshing around out there," Jones said. "Companies will undertake a project if their rate of return exceeds their cost of capital, and the cost of capital is low now because interest rates are low, so it makes more mergers viable."
Mergers and acquisitions in San Diego typically involve firms in the middle market or lower middle market range, which Jones defines as below $200 million and $100 million, respectively.
Still, San Diego isn't bereft of megadeals: tech giant Qualcomm Inc. said this year it plans to acquire Dutch semiconductor company NXP Semiconductors NV for $47 billion.
In recent years, such big mergers have been eyed closely by antitrust regulators, Jones said.
"The Obama administration has been pretty aggressive in terms of antitrust," Jones said.
A Trump administration could make it more likely the Qualcomm deal and other mergers with antitrust issues, such as AT&T's $84.5 billion acquisition of Time Warner announced in October, will get the government's go-ahead.
The Strong Sectors
Ashish Jariwala, managing partner at San Diego investment bank PierCap Partners LLC, said sectors that performed especially well compared to 2015 were technology, health care, energy and consumer staples. In San Diego, the hottest middle market sectors this year were health care software, software and technology, Jones said. Biotech did well, too.
"Corporations and private equity groups have a lot of dry powder; banks are ready to provide acquisition financing," Jariwala said. "It's good on both ends."
Zaheer Dhruv, also a managing partner at PierCap, said some companies are coming to the investment bank after receiving unsolicited offers and realizing they need to have a plan in place in case they decide to take an acquirer up on an offer.
"Companies looking to grow faster than their organic rate are looking for M&A opportunities," Jariwala said. "What that has done is get people proactively looking at M&A."
He said that should continue in 2017.
"We think the fundamentals are good for next year as well," Jariwala said. "The activity should mirror 2016, which is already at a good level."
Optimism in 2017
Jones is also optimistic about the upcoming year.
As 2016 comes to a close, "the pipeline looks good," Jones said. Middle market companies are racing to complete deals by year's end, he said.
While interest rates are expected to tick up from historical lows, he doesn't expect them to move high enough to squelch the M&A boom.
"The stock market is at record highs and while there's some trepidation in business about what the new administration's policies might or might not be, I think most business executives believe a Trump administration will be generally more pro-business," he said.
That's as tech and consumer behavior continue to change the market more rapidly than ever before, pushing businesses to evolve and adapt.
"That can be done faster when two companies join hands and merge resources," said PierCap's Dhruv.
And while it's tricky to say exactly how busy dealmakers will be next year, "what we are certain about is that the need and ambition for growth is not going away," he said.